More Details Regarding Exynos Chipsets Emerge – Increased Clock Speed, Faster RAM Access
While there still hasn't been an official unveiling of the three new Exynos chipsets that Samsung is supposedly working on, some new details have emerged regarding the speed and processing capabilities of Exynos 7880 and 7650. According to different sources, both the Exynos 7880 and 7650 will feature octa-core processors, which make sense since these chips are set to rival Qualcomm's Snapdragon 620 chipset which is also octa-core.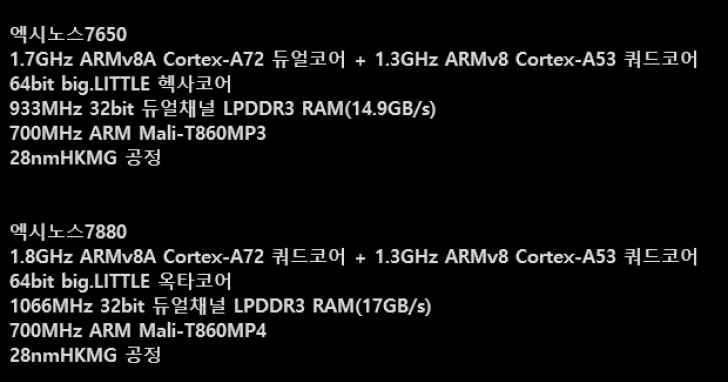 It was already expected that the 7880 will be built on 28nm process but now it seems that the 7650 will also be following suit instead of going for the 14nm process technology. However, given the rumored specifications of both the chips and the power they promise to deliver, it shouldn't be much of an issue whether it's 28nm or 14nm.
The Exynos 7650 is expected to have Cortex-A53 and Cortex A-72 configurations, running at 1.3GHz and 1.7GHz respectively. The 7880, on the same Cortex configuration, as expected will benefit from slightly increased clock speed, faster RAM access and possibly increased core count, although the core count for both chipsets is still unconfirmed. Both will feature Mali's T860 GPU running at 700MHz.
Whether these specifications turn out to be true or not remains to be seen but if Samsung does manage to deliver according to these, the fact that 28nm chipsets are cheaper to make will ensure the company leaves a huge mark on the industry for mid-ranged smartphones.
---
Openly admits his dislike of all things Apple and is a complete Android fanboy. Whenever he looks at something touch enabled or VR, be prepared for a massive geek out. Loves spending his free time experimenting with various Android ROMs.
Join the Conversation
Load Comments
Subscribe to our newsletter