Nvidia GTX 950 Specs, Release Date and Pricing Leaked
According to a report from a well-known Japanese tech site Hermitage Akihabara, the Nvidia GeForce GTX 950 is slated to launch on August 20. The recommended price of the upcoming graphics card appears to be around 20,000 YEN (about £100).
A number of images of the imminent card from various manufacturers such as PNY, Zotac, and Gigabyte, as well as some technical specifications have also been leaked, thanks to VideoCardz, which claims to have got hold of some datasheets pertaining to the GeForce GTX 950.
The graphics card features 768 Compute Unified Device Architecture (CUDA) cores and 2GB GDDR5 memory across its 128-bit interface. The GPU allegedly comes with clocks of 1089 MHz base and up to 1266 MHz boost clock speeds. The memory is, however, clocked at a reference 6.6 GHz, which means it is 100 MHz slower than the GTX 960.
Also, the GTX 950 has a lower thermal design power (TDP) requirement of 90W as opposed to the 960's 120W.
In terms of output, it features one DVI, one HDMI, and three DisplayPort inputs, and require a 6-pin connector. Though ports can vary between card models as well.
The photographic sneak peeks of the upcoming graphics card reveal the different cooling solutions. The PNY card features a single fan cooling system.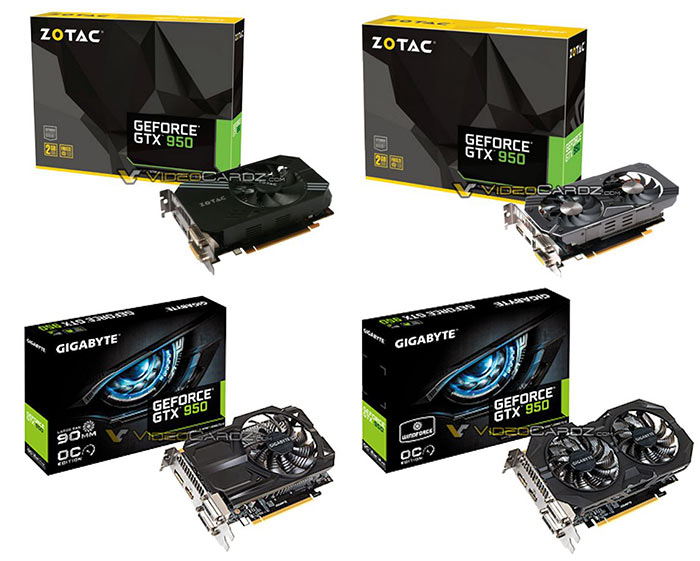 Gigabyte has two factory overclocked cards incoming, one with WindForce 2X cooling solution, and the other with single 90mm fan configuration.
Zotac has plans for three separate GTX 950 versions. One with a single fan system, another with a dual fan which is overclocked to 1102/1279 MHz, while the third is overclocked to 1203/1403 MHz, and has its memory clocked at 7 GHz.
Asus will also be releasing its own version of the GTX 950; however, the leak didn't mention any specifics of its product.
---
Gohar is the lead editor at TechFrag. He has a wide range of interests when it comes to tech but he's currently spending a big chunk of his time writing about privacy, cyber security, and anything policy related.
Join the Conversation
Load Comments
Subscribe to our newsletter