Intel Core i7-6700K Overclocked to a Record 6.8GHz with All Four Cores Enabled
A professional overclocker recently managed to push Intel's latest Skylake Core i7-6700K processor to a whopping 6.80GHz without deactivating any cores or Hyper-Threading technology.
Up until now, the highest clock-rate ever achieved by any "Skylake-S" CPU was 6.5GHz. But Toppc, a computer enthusiast from Taiwan, this week set a new record when he overclocked an engineering sample of the Core i7-6700K microprocessor to whopping 6.8GHz, or 6801.63MHz to be exact.
That is around 70 per cent boost compared to its stock clock-rate, which is, undoubtedly, a great achievement.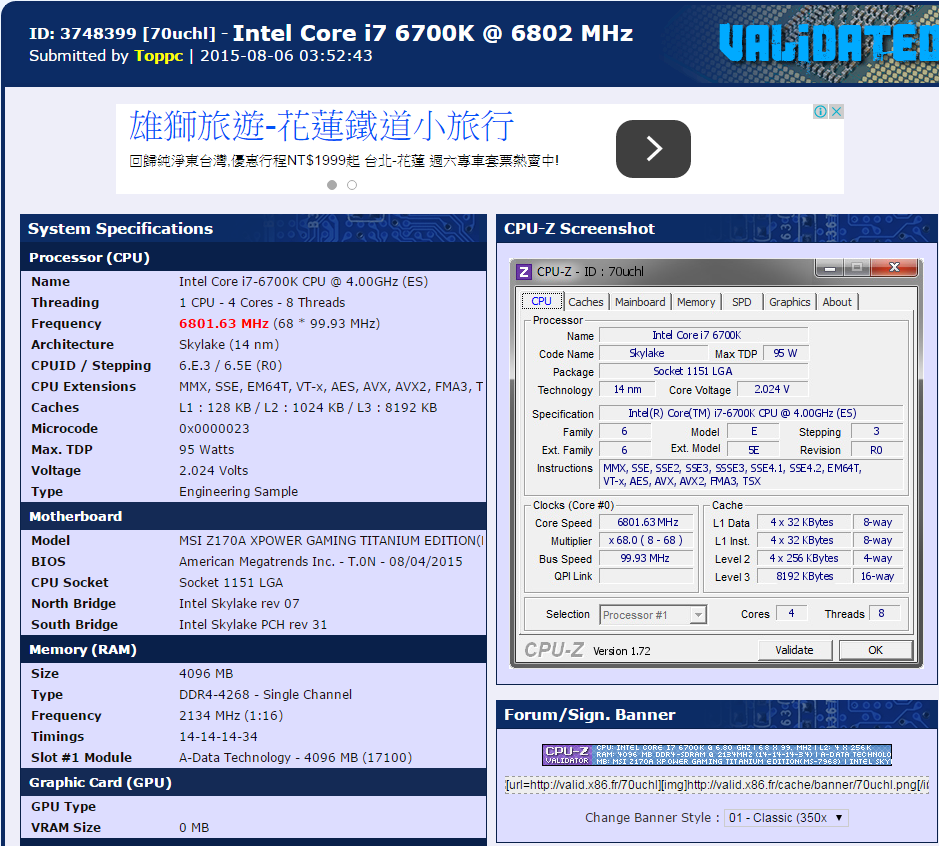 Toppc was able to achieve that frequency on MSI's flagship Z170A XPower Gaming Titanium mainboard while operating DDR4 memory at 4268MHz in single-channel mode.
During the experiment, the core voltage was increased from around 1.2V to astonishing 2.024V, and the chip was cooled-down using liquid nitrogen (LN2).
While 6.8GHz is not the highest clock-rate ever achieved by Intel's recent microprocessors, it is the third highest frequency ever set by a modern Intel Core i7 chip with all cores and HT activated. Ahead of the current record are clock-rate frequencies of 6912MHz and 6810MHz achieved by Intel Core i7-3770K chips with all engines and HT operational.
The Core i7-6700K is the flagship processor based on Intel's new 14nm micro-architecture. The quad-core CPU features a base clock of 4.0 GHz and a boost clock of 4.2 GHz. It comes with 8MB of L3 cache and provides support for DDR4-2133 MHz and DDR3L-1600 MHz.
This is not all! The processor also features a HD 530 graphics processor having a base clock of 350 MHz and a boost clock of 1200 MHz – and it supports the DirectX 12 API. Lastly, the processor comes with a 91W TDP.
The Skylake Core i7-6700K retails at a price of $350.
---
Gohar is the lead editor at TechFrag. He has a wide range of interests when it comes to tech but he's currently spending a big chunk of his time writing about privacy, cyber security, and anything policy related.
Join the Conversation
Load Comments
Subscribe to our newsletter