Prices of Intel Skylake-S processors Leaked
With the Intel Skylake-S processors set to officially launch on August 5th, pricing for each model has already surfaced online. BenchLife has published a list of the finalized prices of the Skylake-S series, which clearly suggests a performance boost over the Intel Haswell Refresh for less money.
According to the details leaked, the flagship Intel Core i7-6700K will be priced at $316 US in 1000-units quantities, whereas the slightly slower Core i5-6600K will cost around $225 US.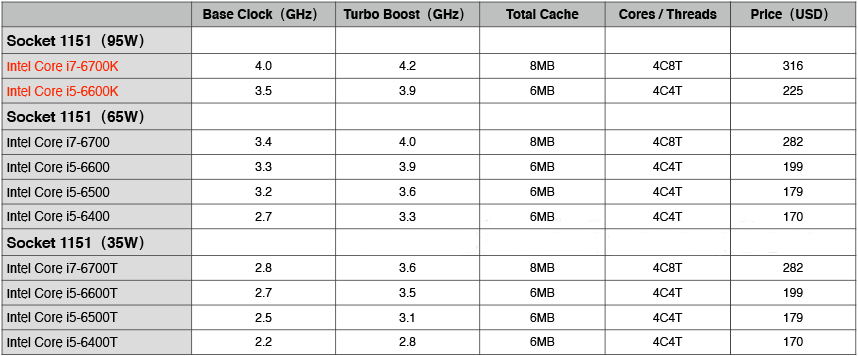 The listed prices are assumed to be the wholesale figures, and that the retail cost will be up by at least another 25% to the price.
Currently, the Haswell Refresh flagship, the Intel Core i7-4790K, retails for around $350. Taking into account the 25% hike on the Skylake i7-6700K, will put the processor at around $400, which still seems reasonable for a feature-loaded CPU.
The box art for the Core i7-6700K and Core i5-6600K has already been revealed, which confirms that the processors will feature eight and four physical cores respectively. Clock speed for the i7 is at 4.0GHz while for the i5 is at 3.5GHz.
Both CPUs ship with support for dual-channel DDR4 and DDR3L memory, as well as Intel HD Graphics 530.
The Skylake-S range of processors officially unveil at Gamescom, with the retail release expected to follow shortly after, likely to be before the end of August.
---
Gohar is the lead editor at TechFrag. He has a wide range of interests when it comes to tech but he's currently spending a big chunk of his time writing about privacy, cyber security, and anything policy related.
Join the Conversation
Load Comments
Subscribe to our newsletter