Thermaltake Unveils Core V51 Riing Edition, The All-Green Chassis Aimed at Gamers
One of the most important components of any PC build is its chassis. Not only does it impact the cooling performance of your system, but also contributes towards the overall aesthetics. Today, Thermaltake introduced the all-new Core V51 Riing Edition Mid-Tower Chassis that comes with a green color theme making it not only look elegant but unique too.
The case is essentially the last year's Core V51 except it has green accents all over the place, instead of plain black, and a couple of upgrades.
The front and top grills are green, the drive cages are green, and even the three preinstalled 140mm Riing fans have green accents to aesthetically match the overall green color theme. The fans have a ring that spans around the frame and lights up in green.
The Core V51 Riing Edition is specifically desiged with gamers in mind. Inside the Core V51 Riing Edition, you'll have an "unprecedented space for high-end hardware and liquid cooling expansion, supporting the latest E-ATX, ATX, Micro ATX motherboards, and all high-end GPU cards," says Thermaltake.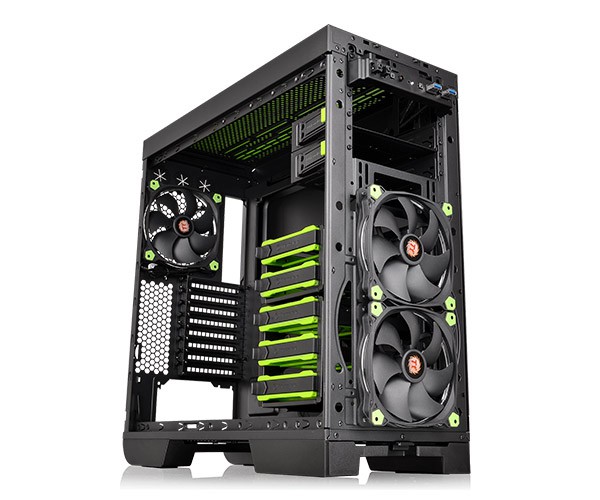 With its eight expansion slots, you'll be able to pack up to quad-SLI or CrossFire setups. Further, the case features two 5.25″ drive bays and five 3.5″ hard drive bays, along with room for up to a 420 mm radiator at top, a 360 mm unit in the front, a 240 mm radiator in the bottom, and a 120 mm exhaust.
In addition to having excellent support for water cooling gear, the perforated top panel of the chassis "allows easy heat dissipation and rapid air intake for maximum ventilation," the manufacturer explains. "The heightened case-stands at the bottom help to enhance airflow and overall stability during operation."
Thermaltake is yet to reveal the price or availability of the product. We'll update you as soon as we get to hear the details. So stay tuned!
---
Gohar is the lead editor at TechFrag. He has a wide range of interests when it comes to tech but he's currently spending a big chunk of his time writing about privacy, cyber security, and anything policy related.
Join the Conversation
Load Comments
Subscribe to our newsletter