AMD Unveils A8-7670K, The Insanely Affordable APU for Gaming PCs
AMD has announced a new quad-core A8-7670K APU aimed at budget gaming PC builders. Launched just in time for Windows 10, the A8 processor – based on "Kaveri" design – comes with DirectX 12 support and is super-affordable at a shockingly low 117.99 USD.
The AMD A8-7670K offers slightly lower performance than the flagship A10-7870K. The new hybrid microprocessor features 4 CPU cores with up to 3.9GHz clock-rate, 6 GPU cores running at 757MHz, and 4MB of L2 cache.
In addition, it supports a dual-channel DDR3 memory controller with hUMA (heterogeneous Unified Memory Architecture) for high levels of performance and efficiency.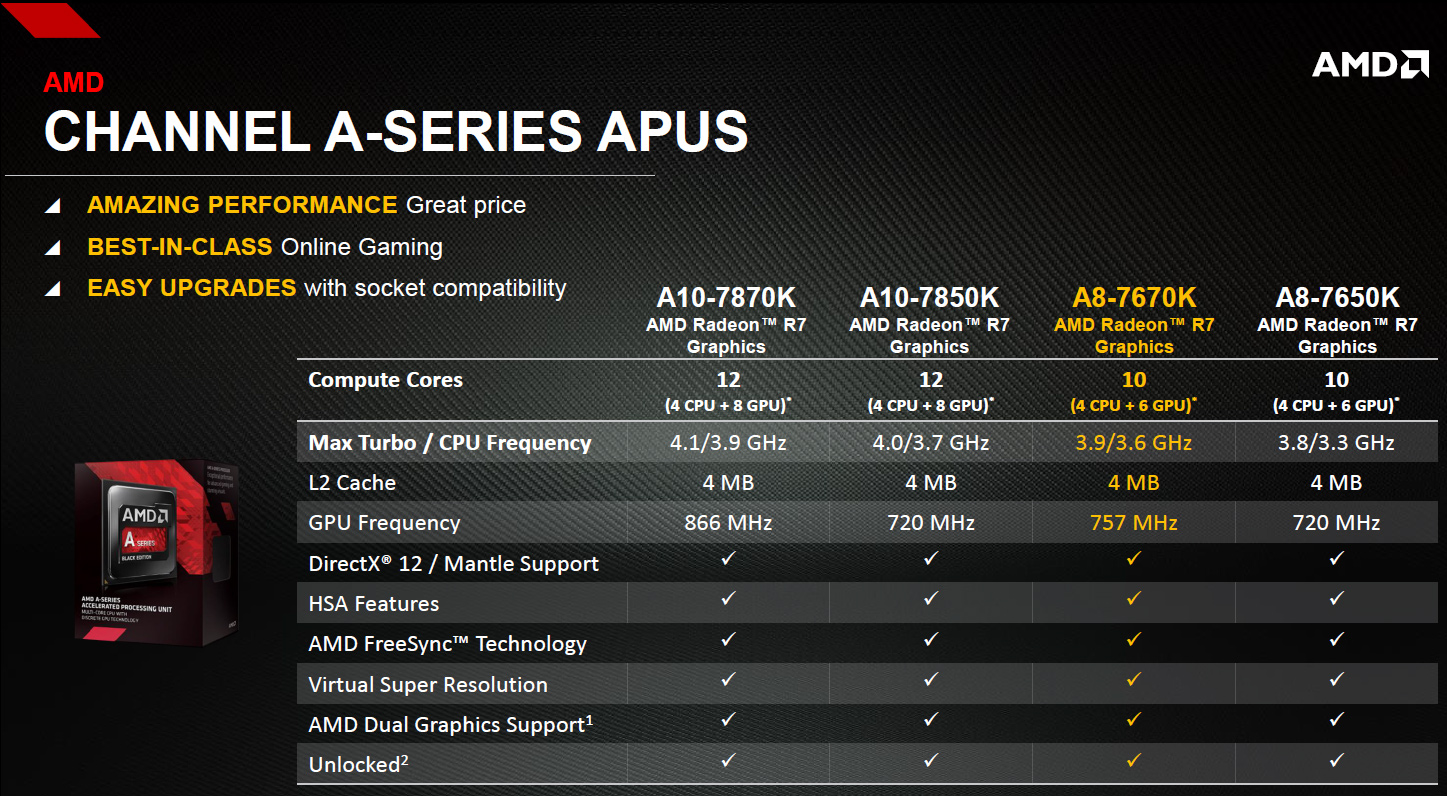 Integrated with the Radeon R7 graphics engine, the A8-7670K also boasts some of the modern chip features including Virtual Super Resolution, and AMD's FreeSync tech. With such impressive spec-list, AMD believes the A8 APU could offer a seamless performance in popular eSports gaming titles like Counter Strike: Global Offensive, DOTA 2, and League of Legends.
"We take gaming seriously at AMD which is why we put so many features into our APUs that make your gaming experience awesome, and that starts with improved gaming efficiency with support for DirectX 12," AMD states in the release notes.
"AMD FreeSync technology puts an end to choppy gameplay and broken frames. Eyefinity, multi-display technology, adds more realism and greater fields of view4. Virtual Super Resolution (VSR) improves image quality when gaming at lower resolutions. And native H.264 video encoding empowers AMD's Gaming Evolved application to effortlessly record your gameplay."
The A8-7670K is compatible with all existing FM2+ mainboards based on AMD's A88X, A78, 68H and A58 chipsets and featuring the latest BIOS versions.
The latest AMD offering would, undoubtedly, be a very smart choice for those looking to build a gaming PC machine on budget. While the new chip might not be able to play modern games at max settings, it should be adequate to deliver a fun experience–and don't forget its insanely affordable price.
---
Gohar is the lead editor at TechFrag. He has a wide range of interests when it comes to tech but he's currently spending a big chunk of his time writing about privacy, cyber security, and anything policy related.
Join the Conversation
Load Comments
Subscribe to our newsletter