AMD Radeon R9 Fury X Quadfire Setup & The Benchmark Results
Recently, we saw a lot of negative media and comments criticizing AMD's new Radeon 300 series, though there are others who still believe the company's flagship R9 Fury X is, by no means, less efficient than Nvidia's GTX 980 Ti. Despite average – but still impressive – Fury X reviews, AMD employee, Matt Buck decides to take the things to next level with the aforesaid graphics card.
In an attempt to achieve ultimate performance, Buck stuffed four of the Sapphire Fury X cards into his full tower chassis to create a gaming monster which he calls The Furious Red Baron!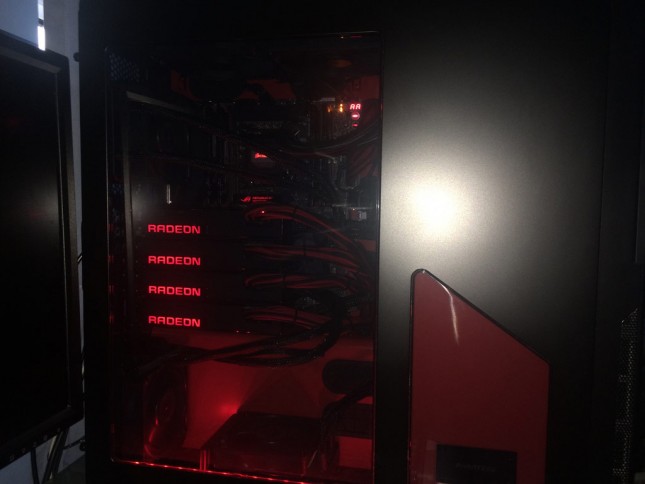 Since one Fury X card alone is enough to handle 4K gaming with a few dips under 60FPS, what would you expect of the four? In fact, this CrossFireX configuration should be enough to run a decent 12K Eyefinity set-up. Well, Buck has already posted some pretty impressive 3DMark Fire Strike Ultra v1.1 benchmark results, along with single increments of each card.
Looking at the results above, the scaling appears to be almost perfect as we add each new card – losing only around 12% performance per card per addition. Here's the performance scaling on the Radeon R9 Fury X:
AMD Radeon R9 Fury X x1 = 4337
AMD Radeon R9 Fury X x2 = 7557
AMD Radeon R9 Fury X x3 = 10801
AMD Radeon R9 Fury X x4 = 13286
So a 2x Crossfire setup improves the score by 74.2%, adding a third card improves another 42.3%, while adding the final card gives another 23% boost.
Buck was able to pull off this overall score of 13,286 with his Intel Core i7-5960X processor running at 4.5GHz. However, as he cranked up the processor to 4.9GHz, he managed to rip off an even better score of 13,605! Comparing these results to the 4K Quad SLI Titan X benchmark, the Fury combination pins the NVIDIA option by almost 5 FPS.
What do you think of these 4K QuadFire Fury X benchmark results? Share your thoughts in the comments below!
Source: Reddit
---
Gohar is the lead editor at TechFrag. He has a wide range of interests when it comes to tech but he's currently spending a big chunk of his time writing about privacy, cyber security, and anything policy related.
Join the Conversation
Load Comments
Subscribe to our newsletter