AMD Shares Performance Benchmark of R9 Fury X Running Far Cry 4
At China's 'New Era of PC Gaming' conference, AMD has supplied detailed information related to its recently announced flagship graphics cards, the Radeon R9 Fury range.
The aforesaid graphics products were unveiled at E3, and AMD has already listed their specs on its official website.
Today AMD held a conference in Beijing, where it demonstrated the performance of its cards.To substantiate that the AMD Radeon R9 Fury X graphics card facilitates smooth gameplay, the chipmaker played Far Cry 4 in ultra-settings in 4K. AMD vowed its new graphics card maintains an average 54fps for smooth game playing and never tumbles below 43fps.
AMD's official benchmark slide is given below.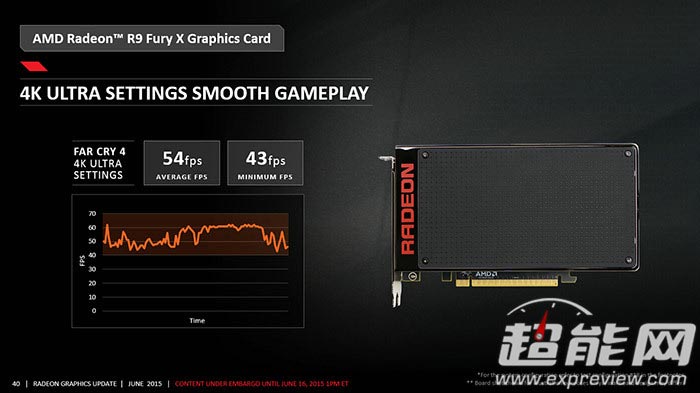 A comparative Far Cry 4 ultra quality 4K benchmark chart from AnandTech can help in proper understanding of that of AMD 's chart.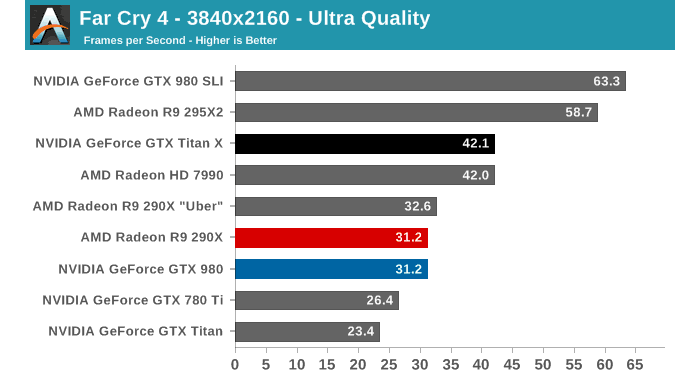 Anand's Titan X review benchmark chart is given below.
Beyond that, we have recently found authentic info about whether AMD Fury range supports HDMI 2.0 or not. "No. AMD recommends and uses DisplayPort 1.2a for 4K60 content," AMDMatt clarified while answering a direct question.
According to a news source, the HDMI 1.4a port on the upcoming R9 Fury products will support 4K output at 30Hz—something that can check users from exploring frame rate possibilities more than 30Hz.
The graphics card in question encases 256 texture units, 64 ROPs, and a six-phase VRM (voltage regulator module). AMD will pitch its flagship directly against Nvidia's GTX 980 Ti for $649 and £550 respectively in the US and the UK.
---
Abubaker Zahoor writes on diverse topics with special interest in innovations, tech-ethics, and inter-and intra- organizational business relationships.
Join the Conversation
Load Comments
Subscribe to our newsletter