AMD's Upcoming Flagship R9 390X Is A Hawaii Rebrand, According To Leaked Specs
AMD's plans to rebrand its GPUs have raged some of its users and left others in utterly disbelieving state. The company has itself confirmed that its OEM series will be rebranded.
Now some fresh leaks over the Internet have eventuated in speculations regarding the structure of AMD's flagship Radeon RX 300 series, establishing that the aforesaid series will consist of Hawaii-based products.
Couple of news sources have already detailed limited specifications and packaging of the Radeon R9 390-series. Which, according to VORTEZ, "makes grim reading for those who aren't a fan of rebranding old technology as new SKUs."
The news source states that XFX R9 390X is pretty much identical to AMD's R9 290X. The only major difference is that the former features 8GB GDDR5 DRAM in contrast with 290X's 4GB. What makes news onlookers to relate it to Hawaii is its long PCB and double-dissipation cooler.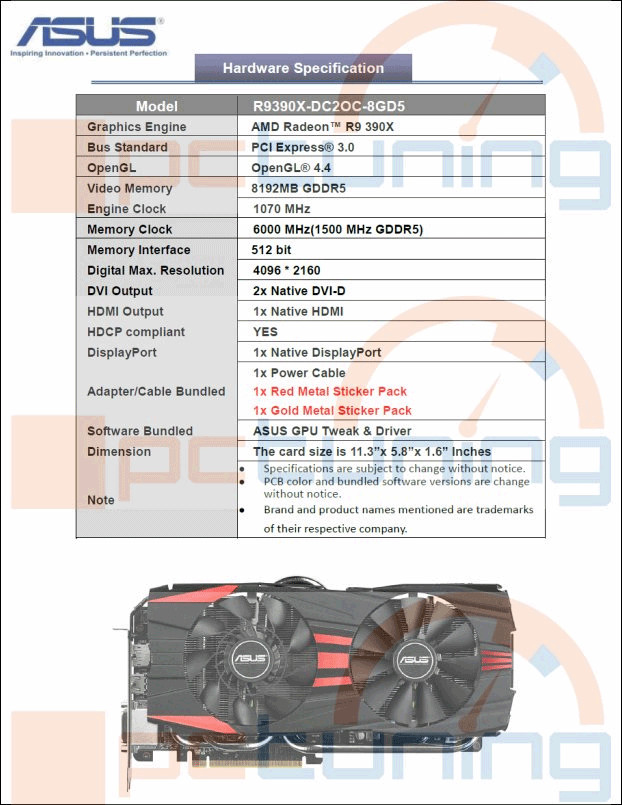 According to the alleged specs listed by ASUS, R9 390X will be clocked at 1070 MHz. The memory speed has been upped from 5400MHz to 6000MHz.
In addition to this, R9 390X will have larger frame buffer, that can boost its performance efficiency to some extent.
This is not the first time when a GPU is being rebranded. In fact, this has been a common practice for all the major manufacturers, i-e Nvidia and AMD.
AMD's Radeon R9 390 is being considered as a distinct flagship SKU similar to NVIDIA's flagship GeForce GTX Titan X. The latter was launched during Computex 2015, while the former's launch is expected in coming few weeks.
---
Abubaker Zahoor writes on diverse topics with special interest in innovations, tech-ethics, and inter-and intra- organizational business relationships.
Join the Conversation
Load Comments
Subscribe to our newsletter