Makerbot's iPad App Lets You Convert Your Hand-sketches Into 3D Printable Realities
3D printing is one phenomenon that is going to intrigue me for the rest of my life. There were days where we once joked about things "magically appearing out of thin air," and now you can see actual ice-creams, and houses and violins being printed in front of our eyes.
Fusing this feature with actual hand-made drawings, MakerBot has updated a free PrintShop iPad app which allows you to take a picture of your hand-drawn sketch and convert them into 3D printable models.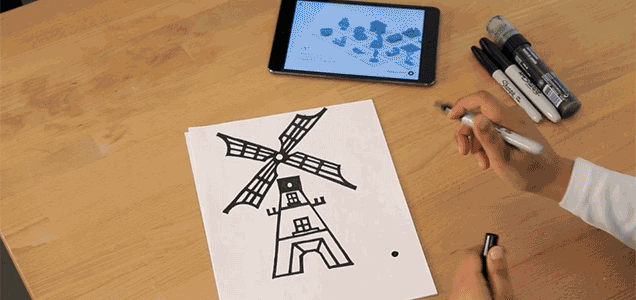 This means a humongous breakthrough in the design world, where even children will be able to simply bring life into their hand sketches, and even architects will be able to convert their thoughts on paper into actual mini models for better understanding. You don't need to learn any 3D modelling or 3D printing specifics behind it, as the app does the math for you.
Using the Shape Maker functionality sounds pretty easy:
Photograph the drawing with a distinct level of contrast.
Adjust a simple slider that highlights what parts of the image will be converted and included on your 3D model.
Modify the scale of your model.
Adjust how much it will be extruded which gives it depth.
Choose side to be completely filled in.
Your drawing is ready to be sentwirelessly to a MakerBot printer through the Thingiverse site.

The Shape Maker feature is a major update to the MakerBot iPad app, and also sets the first stone to the road towards a future where 3D printers will be available in every home and open for everyone's use.
---
Computer Science student who puts thoughts onto paper either through writing or sketching, and considers ideal happiness as a good book, under the open sky, with a cup of tea.
Join the Conversation
Load Comments
Subscribe to our newsletter