Take A Look At This Sci-Fi 3D Print Violin
The Game of Thrones season is back and all people will now see is traditional weapons even in a leaf. Take the weapon 50 years from now, and you get a musical string instrument which looks like a pretty terrifying bow and arrow-ish slaying sharp object, when all it does is just produce ancestral soothing sounds.
The "Piezoelectric Violin," has been developed by the architects at MONAD Studio, and has got only two strings, is 3D printed, and plays and sounds like the conventional violin.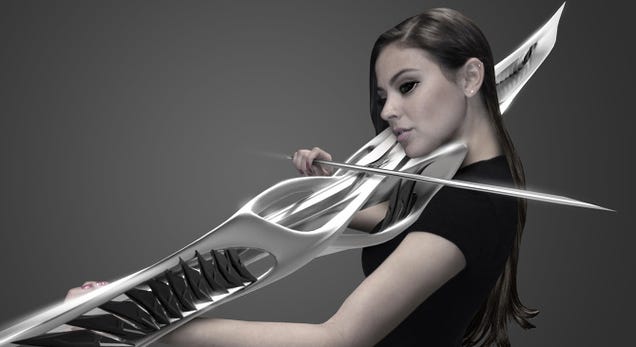 The violin is all set to appear next week at the Inside 3D printing conference in New York, where it will be played among other super modern MONAD instruments, like a cello, and a small and large didgeridoo. Designer Eric Goldemberg and Veronica Zalcberg's brainchild was made with the futuristic take on the following basis:
"Our desire to create unusual instruments emerged when we realised the aesthetic and technical issues we were facing as architects did not differ much from those of musicians and composers," Goldemberg said.
"With each of our original instruments, a certain functionality and ergonomic structure is preserved: this is why we can call our violin a violin, our cello, a cello, and so forth. There is a certain physical standard of componentry which must be maintained."
While it may look and feel like a very sci-fi gadget right now, evolution was inevitable even in music. But Goldemberg maintains that MONAD is preserving the history while experimenting with the designs.
Innovation in instrument design is a balancing act of paying homage to history and tradition while at the same time looking forward boldly into the future.
---
Computer Science student who puts thoughts onto paper either through writing or sketching, and considers ideal happiness as a good book, under the open sky, with a cup of tea.
Join the Conversation
Load Comments
Subscribe to our newsletter