Unlock Your Android Phone Using Your Voice
Google is constantly looking to incorporate new technologies into its Android ecosystem so that it can stand out even more. Among these efforts, Google is now rolling out a new feature that lets you unlock your Android device using just your voice!
First spotted by Android Police, the feature called "Trusted Voice" can be turned on by tapping the option under Smart Lock that will take users to the Google app's settings. You can enable the feature after a couple of taps from here. Once you have enabled it, you can use the two magic words to unlock your Android device: "Ok Google."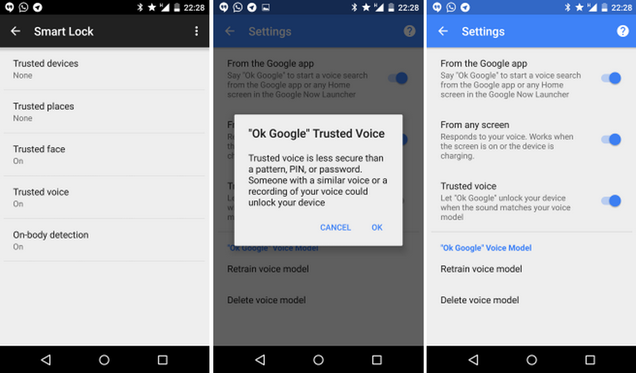 In spite of the fact that the feature is being rolled out by Google, it is still not as secure as other locks. Obviously, it can be broken if somebody records your voice and use the recording to unlock your phone. Also, Trusted Voice might not be able to distinguish between similar sounding voices. So there are a lot of challenges for this tech to be used as passwords.
The feature was partially released along with the Google Play Services 7.0 but the necessary setting in the Google app wasn't visible just yet. Now Google thinks the Trusted Voice feature is ready for the users. According to Android Police, it will take a while before the feature arrives at your device.
---
Computer Science student with interests in latest trends in technology, latest news about tech companies, startups, smartphones and football!
Join the Conversation
Load Comments
Subscribe to our newsletter