Microsoft Office Lens Document Scanner App Released
Did you ever feel the need to transform an image into an editable document? I know I have. I remember during exams season I used to take pictures of notes and study through my phone, because I hated hard copies. I always wanted a decent app that could just transform those images into documents, so I could use some of that material or quotes in presentation slides.
Well, thanks to Microsoft we do have a decent app that will do this for everyone. Microsoft has released a brand new app called Microsoft Office Lens, that will help convert images into editable documents. The app is available on iOS and Android devices.
Those who use Windows Phone, already have access to this app for a while now.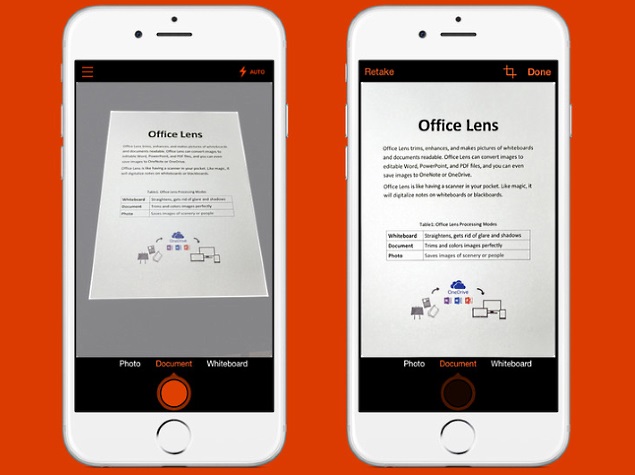 According to the announcement post:
Office Lens is a handy capture app that turns your smartphone into a pocket scanner and it works with OneNote so you'll never lose a thing. Use it to take pictures of receipts, business cards, menus, whiteboards or sticky notes—then let Office Lens crop, enhance and save to OneNote. Just like that—all the scanned images you capture from Office Lens are accessible on all your devices.
Bringing this app to rival platforms is another move by Microsoft to introduce some of its best software to rival audience. Once again, the idea seem to be attracting audience from iOS and Android.
When it comes to Office Lens, it sort of turns your phone into a scanner. You can use your phone's camera to take an image of business card, menu document etc, and transform it in an editable document and even store it on OneDrive — which is another example to their software on rival platforms.
The image you take using Office Lens, can be stored as Powerpoint file, Word file or even PDF. The software uses optical character recognition to turn image into document.
The app was released on Android as a preview for users to test. So you'll have to sign-up before you can download. You can sign-up at the Office Lens Android Preview Community on Google+.
You can know more about the app by visiting the link above.
---
Sikander is a gamer at heart and loves to write about the latest technology trends. He does it all in the name of Techfrag!
Join the Conversation
Load Comments
Subscribe to our newsletter