iOS 8.4.1 Released with Fixes to Apple Music, Patches over 40 Security Flaws
Apple today released iOS 8.4.1 to the public, roughly more than a month after releasing iOS 8.4 with the new Apple Music service. The update is being rolled out over-the-air with build number 12H321 for supported iPhone, iPad and iPod touch models.
Today's iOS 8.4.1 update is aimed at fixing issues related to Apple Music and other performance improvements. You can download and install the update from Settings > General > Software update.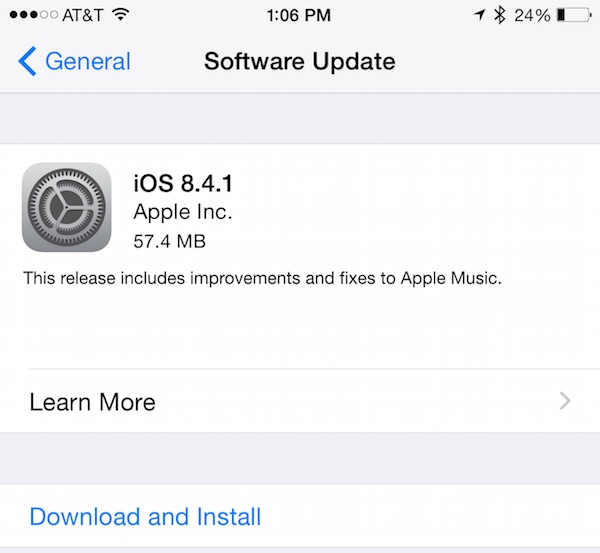 Release Notes:
This release includes improvements and fixes to Apple Music.

– Resolves issues that could prevent turning on iCloud Music Library
– Resolves an issue that hides added music because Apple Music was set to show offline music only
– Provides a way to add songs to a new playlist if there aren't any playlists to choose from
– Resolves an issue that may show different artwork for an album on other devices
– Resolves several issues for artists while posting to Connect
– Fixes an issue where tapping Love doesn't work as expected while listening to Beats 1
Further, Apple has reportedly patched a total of 40 security flaws including the ones used by the TaiG team for their untethered jailbreak tool for iOS 8.4. So, if you have jailbroken your iOS device using TaiG jailbreak, it is recommended to stay away from this update.
iOS 8.4.1 is likely to be one of the last updates to the iOS 8 operating system. The successor iOS 9 is currently in testing and is scheduled to be released in the fall alongside new iPhones.
---
Gohar is the lead editor at TechFrag. He has a wide range of interests when it comes to tech but he's currently spending a big chunk of his time writing about privacy, cyber security, and anything policy related.
Join the Conversation
Load Comments
Subscribe to our newsletter