Leak Reveals Intel Skylake-U Low-Power Processor Lineup
The Intel Skylake-U lineup, which is likely to be unveiled at the Intel Development Forum later this month, has been leaked on the web. According to FanlessTech, the lineup is based on Intel's latest 14nm core architecture and will be available in 8 various SKUs aimed at low power tablets, Ultrabooks, convertibles and fanless mini-PCs.
Leaked details reveal that the Skylake-U family includes Core i7, Core i5, Core i3, Pentium and Celeron. No line will get more than two SKUs, with the Core series CPUs featuring Intel HD 520 integrated graphics, and the Pentium and Celeron lines coming with the Intel HD 510.
The HD graphics 520 will be clocked at 350MHz base and 1000MHz boost, while the HD 510 will offer a base clock of 300MHz and boost clock of 900MHz.
Leading the Skylake-U lineup is the flagship Core i7-6600U; a dual core CPU featuring a clock speed of 2.60 GHz with a turbo boost of 3.40 GHz. The chip supports both DDR4-1866 MHz and DDR3L-1600 MHz memory and comes in the BGA package with a TDP of 15W that can be OEM configured down to 7.5W.
The specifications of the Skylake-U family can be found below: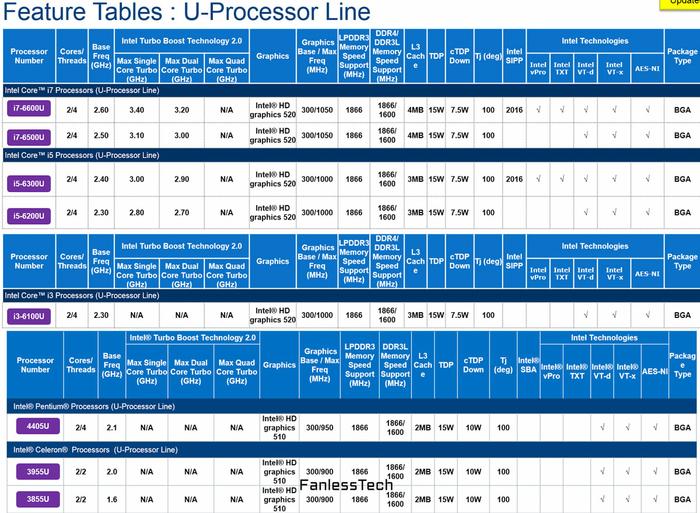 Further, the leaked slide also suggests that we'll see four Skylake-U chips with TDPs of 28W featuring Iris Graphics set to arrive in Q1 2016.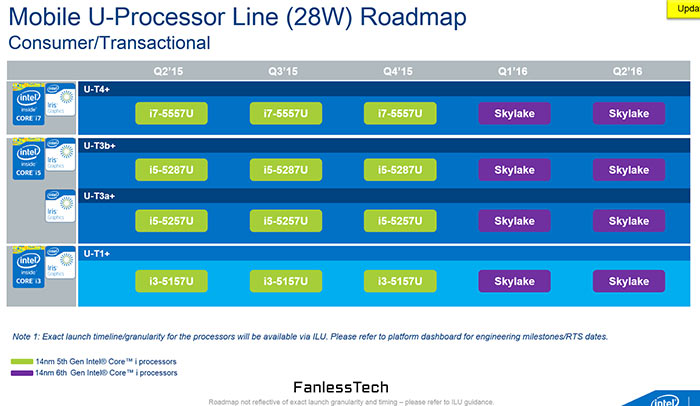 ---
Gohar is the lead editor at TechFrag. He has a wide range of interests when it comes to tech but he's currently spending a big chunk of his time writing about privacy, cyber security, and anything policy related.
Join the Conversation
Load Comments