PowerColor Devil R9 370X Benchmarks Leaked
By staff / 2 years ago
Share
Tweet
The PowerColor Devil R9 370X benchmarks showing its performance review have leaked onto the web ahead of launch.
Although AMD has already lost the battle to NVidia this year, there is yet another AMD GPU to surface which is meant to compete NVidia's GTX 950. Like all other AMD Rx 300 series, I'm sure this graphics cards will be the same old rebranded GPU, an old card with a new cover, a new name and a new price tag.
AMD R9 370X is based on a Pitcairn technology which has already been used in HD 7000 series. It comes with 1280 steam processors which is a greater number than the 768 CUDA cores of NVidia GTX 950. It has a memory clock frequency of 5600 MHz and a core clock frequency of 1180 Mhz.
The PowerColor Devil R9 370X comes with a back plate which gives a more sturdy and finished looks to your card. The GPU is powered by a dual 6 pin connectors which can mean a huge overclock potential if temps in your chassis are kept low and stable.
In terms of connectivity, it comes with a dual 1.2 display ports, 2 DVI connectors and an HDMI port.
PowerColor made sure that the card won't heat up, even when under max load. It uses 4 copper heat pipes directly in contact with the GPU and extremely large Heatsinks for further heat dissipation.
This plan makes for a good approach if you plan to overclock this card to its limits. Like wind force coolers, this particular GPU also comes with 3 fans and a metal shroud with a beautiful red and black color scheme to top it off.
Now onto the performance results, when tested on 3D Mark 11, it managed a score of 2761, just so you know a GTX 960 usually gets 3350.
The GPU was also tested on fire strike and it pulled off 3000 points where a 270X usually get around 2600 to 2700.
Down below is a graph of FPS 370X delivers on 1080p.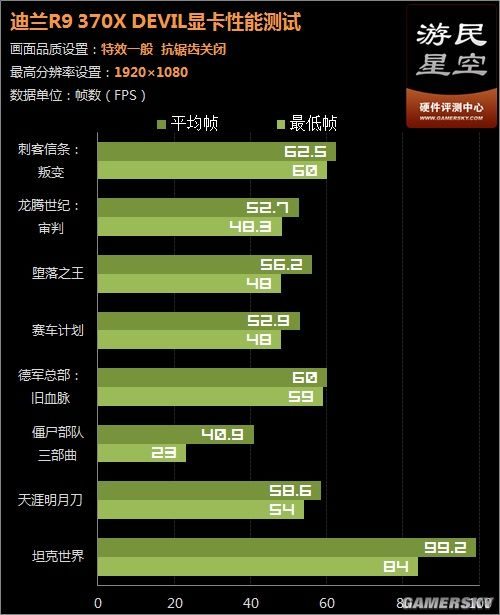 AMD may have lost the battle this year, but it continues to deliver a huge performance/money ratio by pricing its cards lower than its arch rival.
Join the Conversation
Load Comments
Subscribe to our newsletter