Xiaomi Announces Mi Note Special Edition with All-Natural Bamboo Back
After the confirmation regarding the launch of Special Edition Xiaomi Mi Note yesterday, Xiaomi fans were curiously waiting for this Tuesday morning. Xiaomi Inc., has satisfied curiosities by unveiling the Mi Note Natural Bamboo Edition.
The name of the device sufficiently tells the whole story: Xiaomi Mi Note Natural Bamboo Edition is actually the successor of Xiaomi Mi Note, the top-tier phablet from the Chinese smartphone maker which was launched in January 2015. The new device is having the same specs that were featured in its predecessor; the chief difference between Xiaomi Mi Note and its Special Edition is the all-natural back cover of the latter — bamboo is used to make this cover.
This little difference is what creates the real difference. The pronounced cover gives the Special Edition an exceptionally slim body and very light weight. The device is only 0.9 mm thick and weighs five gram less than previous version of Mi Note.
An all-natural bamboo cover of the phone, in consideration, promises a unique texture to the device. Each enchanting Bamboo Edition is the splendid reflection of Xiaomi's asserted hard work, as the company posits. Believing in the company's claims, it took 19 heedful procedures to bring the bamboo shell of the phone in its perfection.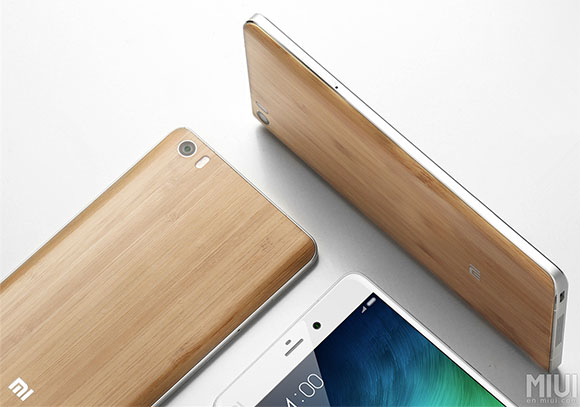 Interestingly, there is nothing changed under this bamboo hood. In other words, Xiaomi Mi Note has been relaunched with a refined back cover. In fact, when Xiaomi CEO Lei Jun announced Special Edition Xiaomi MiNote today, he did not shed light on the internal features of the device in particular. Therefore, it is fairly safe to re-list the features of the original model.
The device comes with 5.7-inch IPS LCD display with a resolution of 1080 x 1920 — something which becomes obvious just by looking at the phone. Other important specs which the bamboo Edition encloses are descriptively:
PROCESSOR: 5GHz Qualcomm Snapdragon 801 CPU with Adreno 330;
MEMORY: 3GB of RAM &16 GB of ROM
CAMERA: 13-megapixels rear camera which features optical image stabilization and LED flash and 4 MP front-facing shooter for stunning selfies.
The next thing you want to know is, my subconscious says, the availability and cost of the Xiaomi Note Natural Bamboo Edition. So you may calculate your bills now and assess whether you can afford to pay RNB ¥2,299 (around $368/€347/₹23900) for this phone which will reach the market on 24 March. But the China residents can pre-order the new Mi Note Natural Bamboo Edition.
---
Abubaker Zahoor writes on diverse topics with special interest in innovations, tech-ethics, and inter-and intra- organizational business relationships.
Join the Conversation
Load Comments
Subscribe to our newsletter