Startup Develops a Battery That Charges in Less Than 60 Seconds
You may have a mobile device with high-resolution display, large screen size, fast processor, latest OS, and high-end camera, but one thing that always casts these features down is battery life. Majority of smartphone owners prefer to have long battery life to any other feature of the device, and that is the reason all the top smartphone manufacturers are always experimenting with new ways to boost the battery.
We have already seen HTC Rapid Charger capable of charging select devices 40% faster than a regular charger would. Motorola also launched a similar power booster, Turbo Charger, which uses the same Qualcomm Quick Charge 2.0 technology to give phones like Google's Nexus 6 and Motorola's Droid Turbo a rapid charge. Now, a startup has come up with a new type of battery that takes less than one minute to reach full power!
An Israeli company, StoreDot, claims to have achieved this feat that could bring an end to "the whole anxiety of your phone going dead." The novel idea of this battery system was born thanks to a research being carried out into Alzheimer's disease. Researchers found out that a particular peptide molecule, involved in causing Alzheimer's, had high capacitance that allowed it to hold charge much more quickly than the currently available options.
Using this peptide property, StoreDot developed a three-tier battery system:
The battery within the phone;
A special charger which can pump a strong electrical current into the phone;
The system within the phone which manages power use efficiently.
StoreDot CEO Doron Myersdorf believes the innovative technology could revolutionize the mobile market. "Once you have an unlimited battery – because this is what we are offering … your whole applications and your whole usage model of the phone changes so you have better devices which are more energy-hungry, you have more applications which do amazing things," said Myersdorf.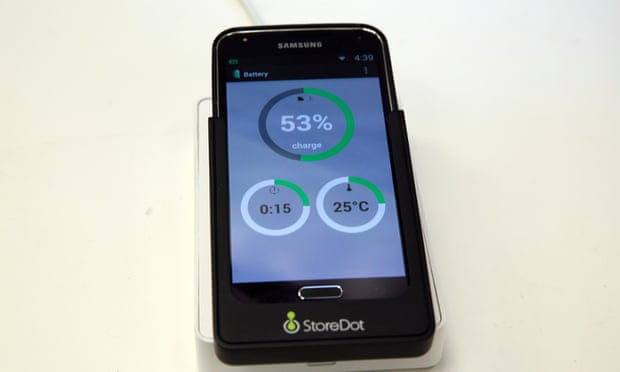 While the idea of charging your smartphone in just one minute seems exciting and would certainly appeal to every single smartphone owner in the world, it's worth mentioning that the StoreDot battery does not last as long as conventional phone batteries — it will last about one-third less of the time than those in standard smartphones at the moment. Moreover, the need for the special type of charger would raise the cost of phones by around $50.
But again, these factors are overshadowed when we think of a system that could eradicate the dead-phone dread.
So far, StoreDot has managed to gather $48m in funding from a number of investors including Samsung and Chelsea Football Club owner Roman Abramovich. With further investment, the company said it could also expand its technology to electric vehicles, with research suggesting that a five-minute charge could power up a car to drive for 150 miles.
The company is currently in talks with 15 smartphone manufacturers, and believes the battery system will hit the mass markets by the end of 2016.
---
Gohar is the lead editor at TechFrag. He has a wide range of interests when it comes to tech but he's currently spending a big chunk of his time writing about privacy, cyber security, and anything policy related.
Join the Conversation
Load Comments
Subscribe to our newsletter