Samsung Cuts Down Galaxy S4 Price By $64 In India
Samsung has announced that it is slashing the prices of its 2013 flagship Galaxy S4 in India, bringing the price down by at least Rs. 4000 (~$64). This move by the company comes just few weeks after Samsung had settled to launch four different smartphones in the country.
Samsung has been moving and deepening its roots in the Asian market which holds more than 4.4 billion potential users (as of 2014). While Apple may be dominating the upper-class or U.S. market largely, Samsung's approach is to target people with low-end smartphones with the best features afforded by that model.
Emerging and humongous markets like China and India in Asia are attracting smartphone companies as while there is awareness of all the tech and gadgets available, the generality of prevailing middle class across the region calls for low-end devices.
That is why Samsung is one company that finds itself being tugged at both ends. While it reaches out to the upper class, Apple has a strong foothold there, making Samsung focus on low-end smartphones in the middle class market. However, in Asia, companies like Xiaomi, Huawei and ZTE are offering Android based, grand featured, mid-range smartphones, piling up more competition for the Korean smartphone maker. This has forced Samsung to resort to brutal (on its part) methods to entice the users who strive for mid-tier, exceptional devices.
Samsung had slashed down the prices last year for a multitude of its phones in India as well, which included:
Samsung Galaxy Grand 2
Samsung Galaxy S5
Samsung Galaxy S5-LTE
Samsung Galaxy Star Advance
Samsung Galaxy Grand Neo
Samsung Galaxy S3 Neo
Samsung Galaxy Note 3 Neo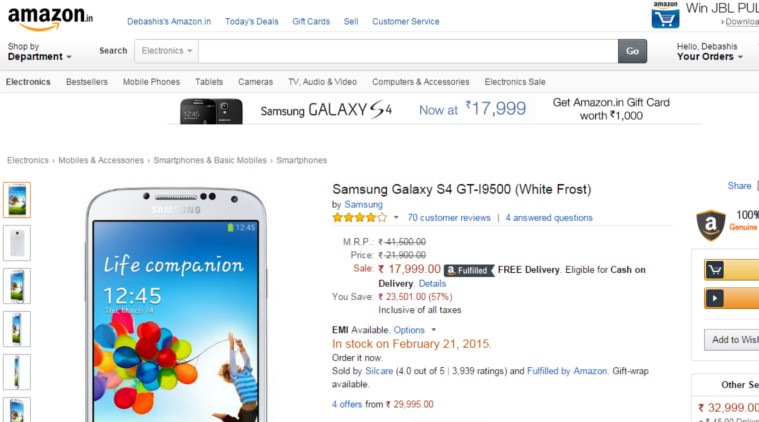 Galaxy S4 is now being sold for Rs. 17,999 (approx. $289 – run for it!) on Amazon.in. In case you don't understand why we are so excited by the prospect, Galaxy S4 was a premium phone of its time, offering the following rich features:
Two quad-core processors clocked at 1.6 GHz and 1.2 GHz respectively
2 GB RAM
16 GB internal memory, expandable up to 64 GB.
Full HD 5-inch Super AMOLED display
13 MP primary shooter and a 2 MP front camera
2,600 mAh battery
Samsung has also rolled out updates of the Android Lollipop for the phones. Getting this package for just Rs. 17,999 is obviously very good value for money. And specially for a branded and established smartphone company, the Indian market would flock in herds to avail the offer as it also lets the status conscious people to get hold of the miraculously mid-ranged flagship phone.
---
Computer Science student who puts thoughts onto paper either through writing or sketching, and considers ideal happiness as a good book, under the open sky, with a cup of tea.
Join the Conversation
Load Comments
Subscribe to our newsletter