Apple Patent Reveals Plans To Jump Onto VR Headset Bandwagon
Virtual Reality is the next big thing, and every tech giant in the market agrees to that. We have been hearing about the almighty Oculus Rift, Samsung's Gear VR, Microsoft's HoloLens and even Google's venture into the arena. Add another company to the list: Apple.
Apple has now been granted the patent to a virtual reality headset that would display the contents on the iPhone screen. The U.S. Trademark and Patent Office has granted the patent numbered U.S. Patent No. 8,957,835, entitled "Head-Mounted Display Apparatus for Retaining a Portable Electronic Device with Display."
As the title suggests, the iPhone will be able to be inserted into the headset which can be worn by the user, as AppleInsider has shown: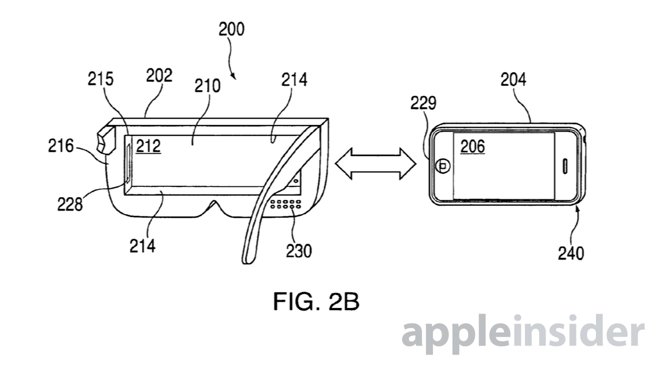 Apple had filed for the patent back in 2008, but was considered troublesome as a wired device around the head stirred a lot of environmental and health concerns. The patent now shows a new design of the headset, which tackles the concerns as it "temporarily integrates or merges both mechanically and electronically a head-mounted device with a portable electronic device."
The frame of the head mounted piece of hardware will allow placement of the display screen of the iPhone, acting as the primary display screen in front of the user's eyes.
To operate and manipulate the content on the screen being shown, the concept comes with a remote control which will be in the user's hand for convenience so he can control it even without looking at the remote.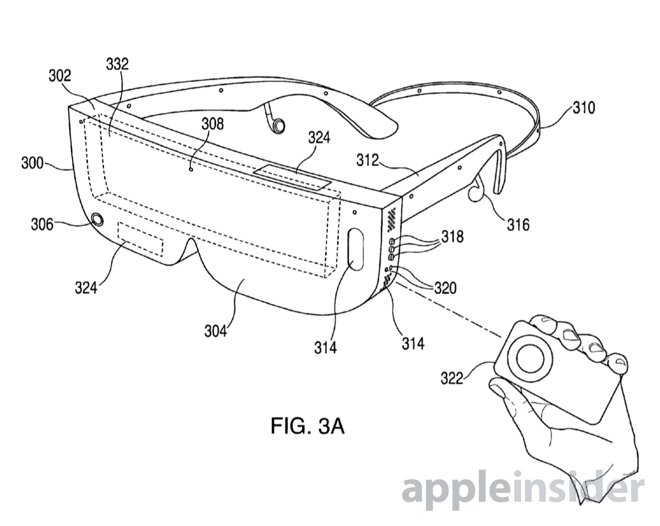 The concept from Apple is very similar to Samsung's Gear VR. Gear VR was launched last year, and uses the Galaxy Note 4 phablet to power the wearable. Samsung's Gear was designed with the help of Oculus Rift, and is still in its beta phase. Samsung has also plunged deeper into the VR waters with Project Beyond, which captures VR content through 360 degree cameras. The device relies on 16 HD cameras for generating its virtual content.
Apple, however, has been showing comparatively less public interest and more hesitation regarding virtual reality. Even though the new patent, credited to inventor Quin C. Hoellwarth, is making headlines all across the tech world and beyond, the iPhone makers have yet to nod whether there is any actual proprietary VR hardware or software in their pipeline.
---
Computer Science student who puts thoughts onto paper either through writing or sketching, and considers ideal happiness as a good book, under the open sky, with a cup of tea.
Join the Conversation
Load Comments
Subscribe to our newsletter