Report: YouTube Radio Is Being Tested With Select Users
Google is reportedly working on a new feature, similar to YouTube Mix, that streams videos non-stop and lets users personalize them. The feature — YouTube Radio — is currently in testing and available to a limited number of users.
Google Operating System reports that users are being shown a pop-up window prompting them to try YouTube Radio. The prompt states, "A non-stop radio station based on the current video. You can like, dislike and dismiss videos to tailor your Radio Station to your taste."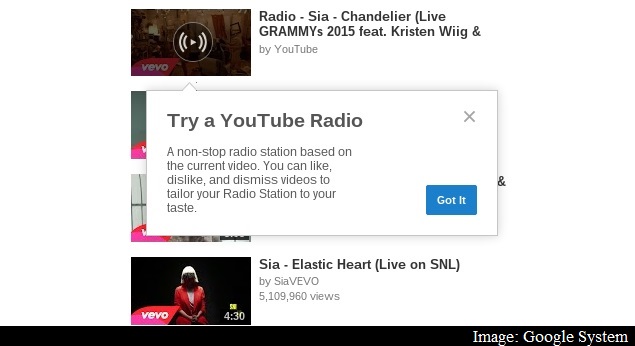 Google has not yet announced anything regarding YouTube Radio feature.
However, it can be inferred from the screenshot that this feature would create a radio station based on the video being watched, and let users personalize the radio station by liking, disliking and dismissing videos.
It is quite similar to YouTube Mix — a feature that automatically generates playlist of related videos. It supports maximum of 50 videos and users can share or like other users' playlists as well. The videos which are automatically added to the playlist or "Mix" are based on the current video.
How it actually works is that YouTube algorithms identify "interests" of the user by looking at what the user is watching, and then suggest related videos that the algorithms think user would like to watch. These videos are added to the playlist and shown on the right hand side of the website or app.
The playlist is generated each time the user opens YouTube. The videos in mix are modified if the user watches a video of genre different from videos that are in the playlist.
YouTube Radio is expected to be similar to YouTube Mix, but the primary difference is that YouTube Radio is meant to stream videos non-stop. It also lets users tailor the radio station as they like.
YouTube is working on number of other features too. Last week, it tested a multi-angle video feature that allowed viewers to switchover between different camera angles. It was tested on 6-minute long clip of Madilyn Bailey's live performance.
The online video-sharing giant dropped Flash in favor of HTML5. The reason behind saying good bye to Adobe's Flash was HTML5's Adaptive Bitrate (ABR).
All these features and new updates are necessary for YouTube to survive. The increased competition from Facebook and other new services is not as easy to face as it was few years ago.
---
Computer Science student with interests in latest trends in technology, latest news about tech companies, startups, smartphones and football!
Join the Conversation
Load Comments
Subscribe to our newsletter