Confide App Prevents Confidential Data From Being Exposed Via Screenshots
As much as we tell ourselves to believe that Snapchat is safe due to its ephemeral nature, deep down we know that it isn't. The demon of screenshots will always have its dark wings looming over us.
But fear not anymore. You can now send confidential text messages, photos and documents through an app, Confide, launched in January 2014.
Huffington Post  reviewed the app in detail, which shows how messages remain confidential. You are only able to view small words or chunks of the photo or document that is received. To view the chunk, you have to press down on the screen with your finger, which then enables visibility of that portion. As soon as your finger moves away from that word, the message disappears completely.
Here is a video of the app in action, courtesy Huffington Post:
Confide is a free app found on Google and Apple's app stores. It was even able to completely disable in-app screenshots for Android users. "You can set a flag on Android that stops someone from taking a screenshot," Confide's president and co-founder, Jon Brod, said.
However, on iOS, you can take a screenshot – but of only a chunk of the message that your finger is currently touching. Before you mischief mongers start grinning at the thought of taking multiple screenshots for every word, you're trapped. Once you take a screenshot, you are kicked out of the message permanently, which is also deleted, before you get a chance to click on the next word.
This is what it looks like when you take a screenshot: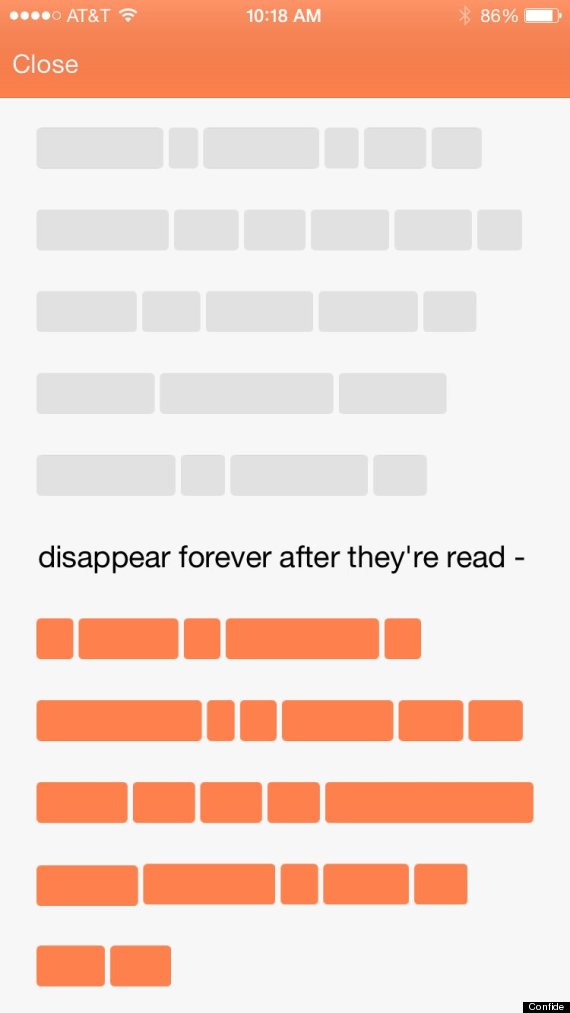 The greyed out portions shows that the message has been read, and is deleted. The line showing text shows where the user's finger was touching, and the orange blocks show the unread text.
Confide also notifies the sender when their message is opened, and even tells you if the recipient tries to take a screenshot.
Moreover, the messages are encrypted. "We use standard military-grade encryption," Brod told HuffPost. When a message disappears, it is deleted from Confide's servers and wiped from the phone completely, he said.
According to Brod, Confide can be used in emails you would mark as confidential, like a confidential resume, or issues where you would rather call than text.
"We're trying to bring off-the-record communication online," Brod told HuffPost.
---
Computer Science student who puts thoughts onto paper either through writing or sketching, and considers ideal happiness as a good book, under the open sky, with a cup of tea.
Join the Conversation
Load Comments
Subscribe to our newsletter