Ocean Spiral With Concept Pictures: "A Real Goal, Not A Pipe Dream"
For all of you infatuated with Interstellar: an underwater city, Ocean Spiral, of 5,000 people that draws its energy from the seabed might just become a reality in the coming decades. Ocean Spiral is a concept from the Japanese construction firm, Shimizu Corp., which is renowned for its extravagant ideas and schemes.
According to Shimizu Corp, Ocean Spiral will "capitalize on the infinite possibilities of the deep sea" to accommodate human life, as rising sea levels threaten the survival of island communities.
An artist has rendered the structure's design, which shows it will be divided into 3 levels:
1. A floating sphere of diameter 500 meters, which will be located just beneath the sea, housing business, residential areas and hotels.

2. The pod will be connected to a 15 km long spiral path which will wind its way to the ocean floor, 3-4 km below the surface.

3. The surface will contain an "earth factory," where scientists will explore ways to excavate energy resources from the seabed.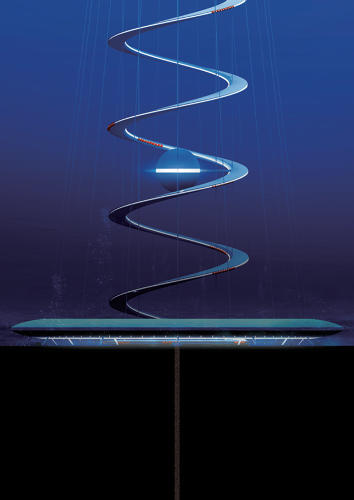 Shimizu has calculated that the project would take about five years to build, at an estimated cost of 3 trillion yen (£ 16bn). The firm is confident the technology needed to build the structure and to sustain life below the surface of the ocean will be ready in as little as 15 years' time.
"This is a real goal, not a pipe dream," Shimizu spokesman, Hideo Imamura, has stated.
The project is now expecting the collaboration of experts from Tokyo University, government ministries and energy firms to turn Shimizu's blueprint into a reality. It hopes to secure the required funding from private industry and the government.
Christian Dimmer, an assistant professor at Tokyo University, said "techno-utopias" such as Ocean Spiral are a response to crises, like climate change and rising sea levels, in case of Japan.
"We had this in Japan in the 1980s, when the same corporations were proposing underground and 'swimming' cities and 1km-high towers as part of the rush to development during the height of the bubble economy," Dimmer said.
"It's good that many creative minds are picking their brains as to how to deal with climate change, rising sea levels and the creation of resilient societies – but I hope we don't forget to think about more open and democratic urban futures in which citizens can take an active role in their creation, rather than being mere passengers in a corporation's sealed vision of utopia."
Ultimately, Shimizu envisions Ocean Spiral as an eco-friendly underwater city, sustained by energy brought up from the earth factory. The factory will work in the following way:
Use micro-organisms to turn carbon dioxide into methane
Power generators located along the ocean spiral will use differences in seawater temperatures to create additional energy
Desalinated water produced using hydraulic pressure will be pumped into the residential pod.
---
Computer Science student who puts thoughts onto paper either through writing or sketching, and considers ideal happiness as a good book, under the open sky, with a cup of tea.
Join the Conversation
Load Comments
Subscribe to our newsletter