Firefox 35 Arrives with Improved Video Chat and App Marketplace for Desktop
Mozilla today launched its newest version of browser, Firefox 35, for Windows, Mac, Linux, and Android. Major features added to the browser include the plug-in-free Hello video calling service, H.264 (MP4 files) playback on OS X, faster access to an app marketplace, and integration with the Android download manager.
Firefox Hello, which is based on WebRTC (Web Real-Time Communications), debuted in October with Firefox 33 beta. The feature let users make free in-browser audio and video without needing to download additional software or plugins, or create an account.
With Firefox 35, Mozilla has slightly streamlined the connect process giving you visual and audio alerts when another party joins the chat. You will also be able to save and name video chats for reuse with the same participants.
The call process has been simplified by eliminating some steps. Now, when you click the 'Start a conversation' button of the Hello icon in the menu bar, a window opens up showing a self-view until the person you have invited clicks on the link and joins you. In the meanwhile, you can navigate away from this call window and browse the web.
When the other party joins the chat, you'll be notified with an audio alert and the Hello icon will turn blue.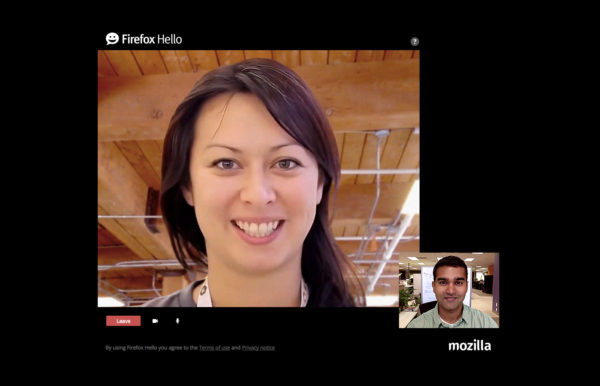 What's more, each conversation window uses a unique URL: you can create multiple conversations and name them for different topics. This should make it easier to go back to the people you speak to regularly without having to create a new link each time.
To make use of Firefox Hello feature, both parties must be running WebRTC-compliant browsers, which currently include Firefox, Chrome and Opera.
The company is also testing new features like screen sharing and online collaboration during video calls as it looks to expand Firefox Hello into a comprehensive tool for communicating over the Web.
Another major enhancement to Firefox 35 includes in-browser access to Firefox Marketplace through the Tools menu or a toolbar icon. While Firefox Marketplace is already available on Firefox OS and Firefox for Android, Mozilla now wants users to help test apps on Windows, Mac, and Linux.
The company has also been pitching developers on Marketplace as it dreams to become the next Chrome Web Store.
The latest version of the browser also brings new Share options — tools for sharing URLs with services like Facebook, LinkedIn, Twitter and others. To add this functionality to Firefox, visit the Share Activation Page and click on the Activate Now link beside the social network.
Apart from these calling and sharing features, Firefox 35 comes with it built-in support for H.264 (MP4 files) on OS X. The feature is available through native APIs on Snow Leopard (10.6) and higher.
For Android users of the app, the most notable improvement is probably that the browser now integrates with Android's download manager.
Firefox 35 can be downloaded for Windows, OS X and Linux from Mozilla's website. Current users' browsers will be automatically updated to the newest version.
---
Gohar is the lead editor at TechFrag. He has a wide range of interests when it comes to tech but he's currently spending a big chunk of his time writing about privacy, cyber security, and anything policy related.
Join the Conversation
Load Comments
Subscribe to our newsletter