Get Ready To Be Swayed With Microsoft's Sway
With the advent of Prezi, the oh-so-unconventional-and-pleasing-to-the-eye web presentation app making its way to all corporate and school presentations, we knew Microsoft's PowerPoint was to take its last breaths.
But then again, Microsoft CEO Satya Nadella's regime has saved the company yet another blow by introducing Sway, the web app for creating presentations. Previously open to people with invites only, Microsoft has now made it public for everyone and you can take a look at it here yourself.
Prezi has been favored by more than 50 million users, most of them youngsters. So Microsoft decided to get in with the cool gang and come up with an app that even works on mobile devices like the iPad and iPhone. Hitting them right in the eye, right?
How does Sway work?
The web presentation app lets you drag and drop photos, videos, files from your computer, Facebook, YouTube, Twitter, or cloud storage.
It works through a web browser or an app specified for your phone.
The presentation is stored on the web.
Microsoft announced Sway in October and sent out invites to leading companies as well. While the resulting presentations from Sway are not as aesthetically appealing as we are used to from Prezi's twirling and zooming visuals, in usage Sway definitely won the race.
Intrigued by all I had been hearing about the app, I experimented around with the app and was pretty impressed. Extremely easy to use, Microsoft's Sway comes with pretty neat features too:
"Change my mood" lets you choose a new layout, background, and fonts.
"Remix" automatically chooses the layout and background for you.
You can edit or arrange text and pictures.
Import a PDF into the presentation.
In the add photo section, it even suggests photos based on the text in the presentation, for example if you write "hello" the suggested tags for the photo include "Hello," "Hello World program," "Hello (Lionel Richie song)" and more.
Upon selecting a tag, it imports images from the Bing search engine, based on the keyword you selected.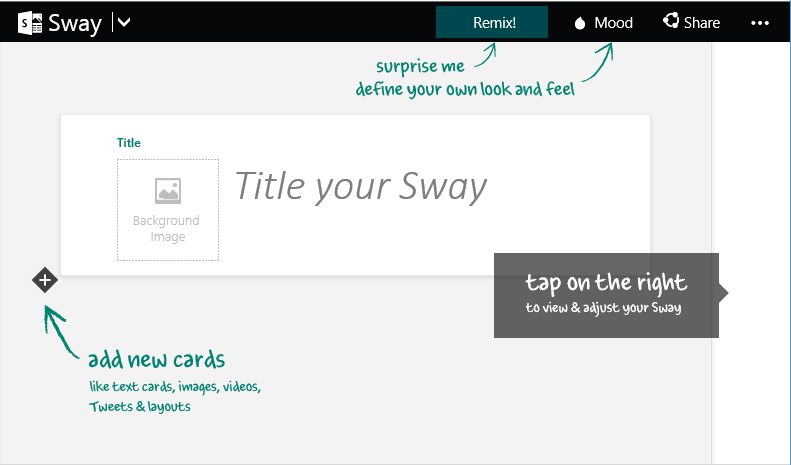 Sway is still officially in Preview mode.
Apart from me, many people have generally liked the app. In the 10 weeks since Microsoft opened up the invite-only preview, Sway had a million visitors, with over 175,000 of them requesting invites, says Microsoft in a blog post. According to Microsoft,  those numbers were growing by "thousands daily."
---
Computer Science student who puts thoughts onto paper either through writing or sketching, and considers ideal happiness as a good book, under the open sky, with a cup of tea.
Join the Conversation
Load Comments
Subscribe to our newsletter