Taylor Swift Ditches Spotify After Launch Of Bestseller Album
Love Story stricken Taylor Swift launched her new album, 1989, late last month, which was also her first album to go platinum. Breaking records with 1.28 million copies being sold this week (that is more copies than Eminem's "The Eminem Show" in a week), Swift decided to go under cover.
Streaming service Spotify was thoroughly disgruntled when in the midst of her sky rocketing fame, Swift took back her catalog and the company lost rights to play her music. Something similar happened to Rdio which can no longer offer her songs to non-subscribers.
I know you just wondered, "Why would anyone in their right minds do that?" Swift answered that question when she announced that these services "[perpetuate] the perception that music has no value and should be free."
To give a sense of scale of Swift's popularity on the service, her track from The Hunger Games soundtrack, Safe and Sound, has 32 million plays.
No wonder that Spotify and the public took to themselves to beg Swift to come back with tweets and music playlists dedicated to the singer.
According to Spotify, 16 million of its 40 million users had streamed a Taylor Swift song in the last 30 days.
These requests went to no vain, as the next day Taylor Swift pulled her music from Rdio's ad-supported tier too, though her songs are available on-demand to paying subscribers and in rotation on Rdio's radio stations.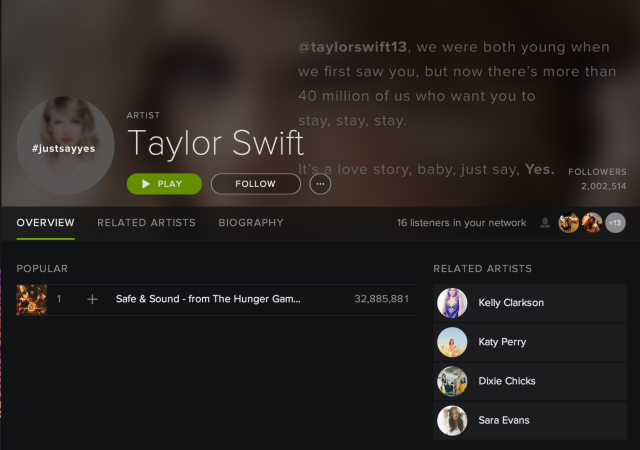 Taylor was basically concerned with how she thinks streaming music for free is unhealthy:
"All I can say is that music is changing so quickly, and the landscape of the music industry itself is changing so quickly, that everything new, like Spotify, all feels to me a bit like a grand experiment," she told Yahoo Thursday.
"I'm not willing to contribute my life's work to an experiment that I don't feel fairly compensates the writers, producers, artists, and creators of this music."
Swift believes that music should not be "free." While neither Spotify nor Rdio provide free music, they don't avoid compensating artists either – both collect fees from subscribers and serve ads to non-subscribing users. The revenue is then shared between artists as a fraction of a cent per play. Swift's music remains on Pandora, which pays on the order of 0.009 cents per stream of a song.
---
Computer Science student who puts thoughts onto paper either through writing or sketching, and considers ideal happiness as a good book, under the open sky, with a cup of tea.
Join the Conversation
Load Comments
Subscribe to our newsletter