Microsoft Releases A Bunch Of Apps For Android, iOS And Windows Phone
Satya Nadella is steering Microsoft in a different direction. Months ago when he published an email that showed his vision for the company, he said that Microsoft would be focusing on mobile-first and cloud-first services. Looks like the company had already adopted the CEO's vision, and started working on it. Now, Microsoft released a bunch of apps for Android, iOS and Windows Phone.
One of the apps is Torque. Did you think you have seen everything? Wait till you get to know that Torque is a Bing-powered app for Android Wear. Yes! A Microsoft's app made for Google's ecosystem.
Torque is an app that answers queries just like Google Now, by utilizing Bing. The difference from user's perspective is that while Google Now requires user to speak 'Ok Google' in order to answer the question, Torque, being an app for Android Wear, simply senses the movement of your arm and it gets ready to answer your questions.
All you have to do is twist your arm and ask the question to Bing.
"Xuedong Huang is wearing a smartwatch," Microsoft explains. "It's a Google smartwatch, and he wants to ask it a question: What's the weather in San Francisco? 'OK, Google', he says to the watch, following the protocol needed to get the watch's microphone turned on before making a query, which he subsequently does.
Then Huang tries another approach, one that's faster, using Torque, an app he helped create. He gives his wrist with the watch a slight twist, and asks the question to Bing. This time, there is no 'OK, Google' needed; the twist turns the microphone on, and the Bing answer arrives quickly: 90 degrees"
Another app from Microsoft is a lock screen app called Next Lock Screen. It offers more features on lock screen, and also looks good.
Apart from calendar entries, emails, missed calls and messages, you can join conference-calls directly from your lock screen. It intelligently learns about your favorite apps and shows them on your lock screen so you access them easily.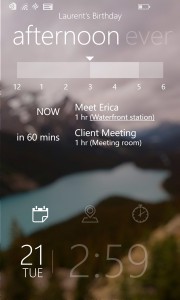 Microsoft has set up a team Garage, which is responsible to build such apps. Their motto is to develop apps rapidly and send those apps to the consumers to get their feedback. This approach is good for Microsoft who are experimenting different approaches to success.
"Tell us what rocks, and what doesn't", says the team behind these apps.
---
Computer Science student with interests in latest trends in technology, latest news about tech companies, startups, smartphones and football!
Join the Conversation
Load Comments
Subscribe to our newsletter