Doctor Who's New Game To Teach Kids Programming
Doctor Who is now teaming up with a Dalek not only to save the universe, but also teach children some early computer programming skills.
However, this isn't a TV show we are talking about. It is a game due to launch today (Wednesday) on the broadcaster's CBBC website.
This web-based game is free and aims at 6-12 year old children, where the children are required to save a Dalek from the ship of Cybermen, and building it back up by solving puzzles based on programming elements from the new English computing curriculum.
Children will be able to enhance their logical reasoning skills from this game as they will have to combine instructions to accomplish a given goal, use variables to change behavior, explore loops, in order to rebuild the Dalek.
Creative director of BBC Doctor Who Interactive, Jo Pearce, says that showrunner of the series, Steven Moffat, and executive producer Bryan Minchin were both involved in the approval process for the game. "It is part of the Doctor Who world: we don't differentiate it," she said.
BBC has also included material for parents and teachers to accompany kids in the game:
"This touches predominantly on key stage two, but then goes in to key stage three. We wanted the game to be something that could help teachers in the classroom as well," said Pearce. "Teachers are getting their heads around this new curriculum, so it was a big aim for us to do these teaching packs."
"Getting children inspired is the big thing for us around this game. When you say 'coding and programming' straight away it feels like a very dry topic, but our aim was to show children you can have fun," said Pearce, ahead of the game's launch.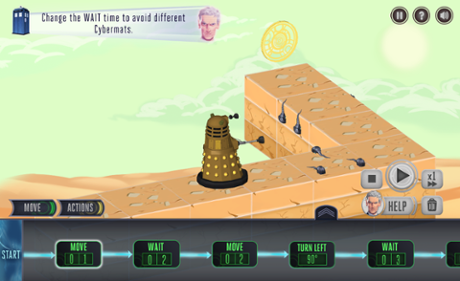 Image Credit: BBC
The project was completed with input from Dr Tom Crick, senior lecturer in Computing Science at Cardiff Metropolitan University and Rik Cross, Head of Education for Code Club.
Pearce went on to say that they had taken the learning element "very seriously" so they wanted to get the right people involved with expertise.
The main aim of this game is to inspire the children into coding, which differentiates it from platforms like Scratch and Blockly, which are more of an academic tool for enhancing coding skills. Hence, once the first step of interest is developed in children, they will gradually move on to using Scratch and other tools with ease.
The game starts with a beginner's level, for kids who have not yet tasted programming. It gradually increases the learning process with each level, by the end of which they will be able to explore Boolean logic and other complex functions.
For now, the game is only playable on computers, but the development team is working on the tablet playable versions of the game too, likely to be updated by early 2015.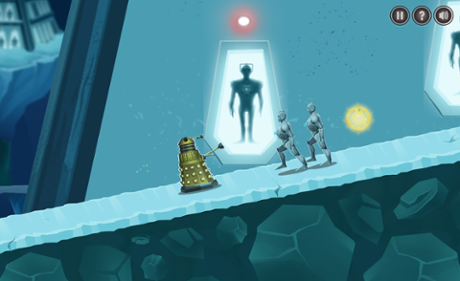 Image Credit: BBC
The Doctor and the Dalek is part of a wider project at the BBC called Make it Digital, which will be the broadcaster's big educational initiative in 2015.
---
Computer Science student who puts thoughts onto paper either through writing or sketching, and considers ideal happiness as a good book, under the open sky, with a cup of tea.
Join the Conversation
Load Comments
Subscribe to our newsletter