Sneak Preview: What Does Windows 10 Offer Apart From The Start Menu?
Windows users around the world were ecstatic when Microsoft unveiled its upcoming Windows software – Windows 10 – in the technical preview on September 30. And one of the major reasons for this celebration on the news was the return of the Start Menu which was ditched in Windows 8.
But Windows 10 is not just about bringing the beloved Start Menu back. What else does this flagship OS (previously being called Windows 9) offer?
Start Menu
The Start Menu, which was introduced with Windows 95 back in 1995 until Windows 8 kicked it out, is one of the most favored features in Windows. And it looks even better now, with Microsoft keeping the heart of its Metro live tiles by integrating them into the right column shown after clicking on Start.
One Windows For All
Microsoft has really focused on making this version of Windows adaptable on every device, be it a Windows desktop PC, tablet, or Windows smartphone. This means there will be one account for all devices, and you can operate them all in the same manner. The apps will be synced across all devices, and the Task View feature will enable you to check which apps (desktop and Windows Apps) are being run on different devices.
Continuum
The amount of effort Microsoft has put into making Windows 10 reachable to everyone and every device is pretty huge – by making it usable on both keyboard and touch-enabled devices. Moreover, the greatest feature is Continuum, where the Windows 10 interface will adapt accordingly if you're using a keyboard with your touch enabled device, and then remove it (like the Surface). This fluid transaction will help reaching out to a greater deal of users, who are still using desktops or are relying on touch or a combination of both.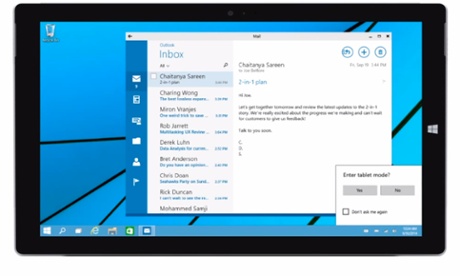 Source: The Guardian
Universal Apps
Microsoft is calling its apps downloaded from the Windows App Store as "universal apps," which will be able to run on all Windows devices, including the Windows Phone. The working of the system is unclear, but what we gather from this feature is that the apps will be squeezed for a smartphone, whereas full size versions will be seen in larger screen devices. Something of a responsive layout of the apps, tailored for each device.
Enhanced Window Snapping
The snapping feature, which allows expanding or re-sizing the window of an app, is now even more advanced. Windows 10 now allows tiling of windows, side by side snapping, and various new layouts along with virtual multi-desktop modes to aid users in selecting their desired app (both desktop and Windows) with more ease.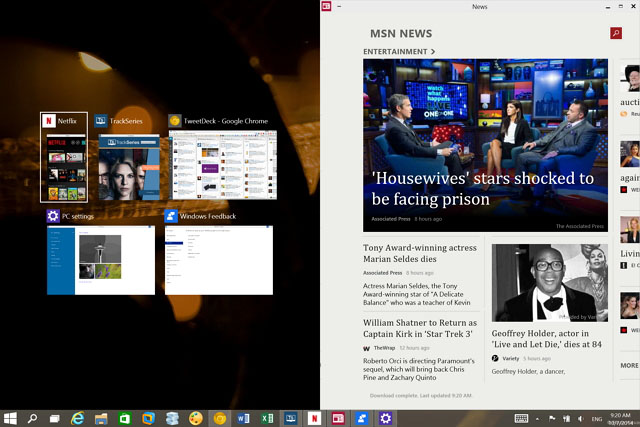 Stay tuned for more features of Windows 10 as we dig them out!
---
Computer Science student who puts thoughts onto paper either through writing or sketching, and considers ideal happiness as a good book, under the open sky, with a cup of tea.
Join the Conversation
Load Comments
Subscribe to our newsletter