iPhone 6 Plus Is Bigger, Finer, And The Best iPhone Yet
With iPhone 6 and iPhone 6 Plus being launched together, the Apple consumers are exponentially increasing with all the hype that has been created prior to their launch. Apple saw its biggest pre-order sale out of the smartphones with four million units being sold within the first 24 hours of its unveiling.
Coming to the phone itself, iPhone 6 Plus is actually worth the hype. The smartphone is the first Apple's phone making it into the phablet category. Phablets were initially referred to one of Huawei's devices which was 7 inches. Now a days, any smartphone exceeding 5 inches is included into this category of phablets (phone-tablet). iPhone 6 Plus lies well ahead into the category with its 5.5-inch screen.
Compared to the 4.7-inch iPhone 6, iPhone 6 Plus seems enormous, especially to the loyal Apple users who haven't used Android-based phones like Samsung's Galaxy series or Google Nexus. So what does iPhone 6 Plus offer apart from an increase in size?

0.01 inches thicker than iPhone 6. Gives a little bulkier feel compared to iPhone 6, but is still lighter than the other phablets at just 172g. 158.1 x 778 x 7.1mm in actual dimensions.

5.5 inch, 1920×1080 res screen with 401 PPI LED and 1300:1 contrast ratio.

A8 64-bit ARM with M8 motion coprocessor, enabled with iOS 8.

The RAM is not very extraordinary at 1GB, but storage is varied in options like 16GB, 64GB and 128GB according to the user's requirements.

Primary camera at 8MP with:
1.5micron pixels
f2.2
Optical Image Stabilisation
240fps video
Face detection
43-megapixel panorama
Burst mode 10fps
1080p video at 30fps or 60fps
Front camera at 1.2MP with:

The battery time of the iPhone 6 Plus is magnified compared to iPhone 6 which means it gets 10 more talk hours, 6 days of standby mode and 3 hours of LTE and 3G browsing.

The iPhone 6 Plus costs $749 for 16GB, $849 for 64GB and $949 for 128GB variant.

Apple Pay: The feature is a mobile payment service which is compatible with American Express and talks are being made with Visa as well for the purpose.
Focus Pixels: The phase detection auto-focus which allows for better quality pictures to be taken easily.
Reachability: For people with small hands, compared to the iPhone's huge size, reaching across the screen is rather difficult. Hence this feature helps reach the top row without bringing down the status bar on the home screen.
Display Zoom: This feature is particularly helpful while reading or searching through items. You can expand the size of the display in your phone, making it easier to view icons or just read anything according to your eye sight.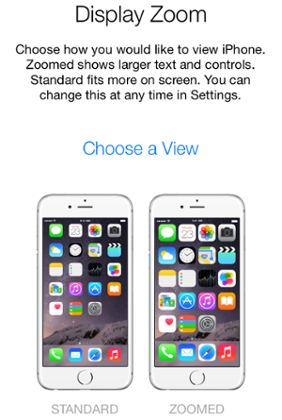 Source: The Guardian
Optical Image Stabilization: This feature is specifically handy for the picture maniacs. In case you find something fascinating that you HAVE to take a picture of while moving in a car, this feature stabilizes the picture which might otherwise be shaky because of the movement.

Overwhelmed, are you? We definitely are. Though priced above the usual premium segment, the iPhone 6 Plus offers some noticeable features which are worth the money. So the only people we believe to turn down this phone are people who don't want a premium display, long lasting and amazing camera phone.
---
Computer Science student who puts thoughts onto paper either through writing or sketching, and considers ideal happiness as a good book, under the open sky, with a cup of tea.
Join the Conversation
Load Comments
Subscribe to our newsletter